A change from the pictures of blue background this week.  It was Stitch Along week this week and I managed to get the page finished despite having one of those really busy weeks where there doesn't seem to be enough time to get anything done.  The second page had a lot less confetti than the first but in true never happy stitchy fashion I got really fed up with the solid block of colour on the candle.  Stitch white thread onto cream fabric is quite tough to see where you're going and where you've been and couple that with being at the end of the page and looking forward to stitching something else; well it's just the recipe for feeling like that area is taking forever.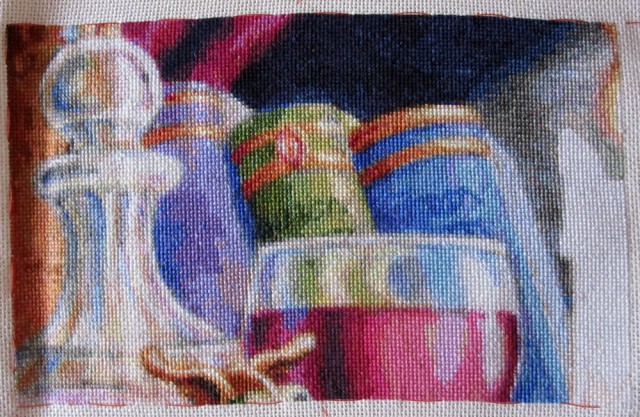 But it was also a busy week because I did some baking last weekend to take some cakes with me on a visit for mothering sunday.  They were called Red Velvet Cupcakes and had a whole bottle of red food colouring in them, they looked amazing though.
Then on Tuesday my frame for Train of Dreams arrived and at the same time I got some more mount card for Faces of Faery 70 as I didn't measure it properly the first time.  So Tuesday night was spent framing.  I did take a couple of quick pictures but I need better daylight to get some good pictures.  I'll put them up as soon as I get them sorted out.
I shall be returning to Whispers next to finish page three that got set aside for the stitch along and then, maybe, possibly, a new start