After finishing page two I decided to get straight on to page three as there was only a week until the next stitch along week started.  I got to just over halfway through the page before stopping to spend an evening baking cupcakes.  Whispers does seem to stitch up nice and quickly which is probably more to do with there only being a few shades of blue and black at the moment rather than any increase of speed on my part.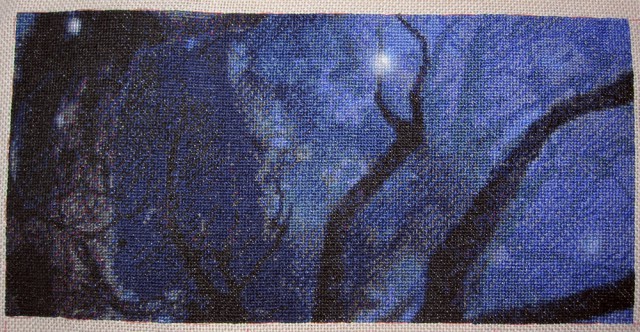 The stitching area is just about there now after having a fiddle around with the best place to put my magnet board and pattern.  The biggest problem now is keeping grumpy cat off my chair.  I know he uses it during the day because of the amount of fur I find on it in the evenings.  His new favourite game is to hide at the side of the chair and tag me as I reach for needles and threads; I think he's trying to tell me to get out of his chair.
I'm working on the stitch along piece now but I'm also hoping to get some spare time to finish the gridding for Little Princess, once I have that done I might be able to convince myself that it's a good idea to get started on that one too.