I like spring, the daffodils are out reminding the sun to pay us a visit from time to time.  Of course in the best tradition of things the sun mostly seems to be out whilst I'm stuck in the office and not making the most of the light in my stitching chair.  I think that grumpy cat makes the most of the light on my chair by napping on it during the day, the cat hairs left behind give it away.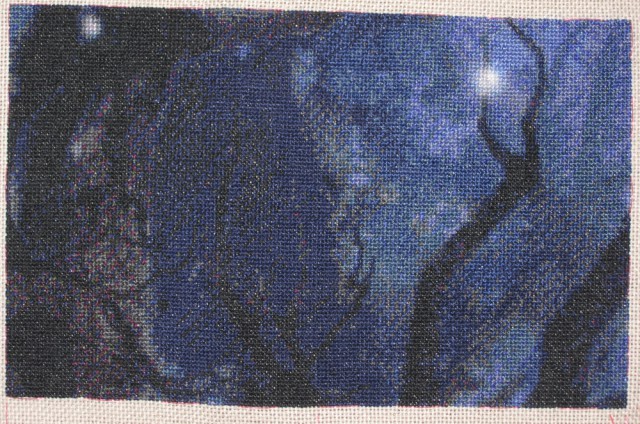 This week I finished page 2 of Whispers and the plan in my head was to grid and start Little Princess by Gordon Fitchett – she's a beautifully dressed duck and I'm looking forward to stitching her.  The problem is that I had a little voice in my head telling me that it would be good to really get going on Whispers, that I could possibly get a lot done on her if I concentrated and ultimately that I might be able to finish her within the anticipated five years.  Five years is an estimate based on being able to stitch one page a month every month (she's 56 pages in total).  I listened to the voice and tonight I've started page 3.  I'm sure that at some point I'll get bored with black and blue, mostly DMC colours 310 and 939, and at that point I'll need to take a break and start my duck.
My stitching area is nearly there, I'm waiting for lots of sunshine to get a really good picture of it.