I'm now ahead of my schedule for the year.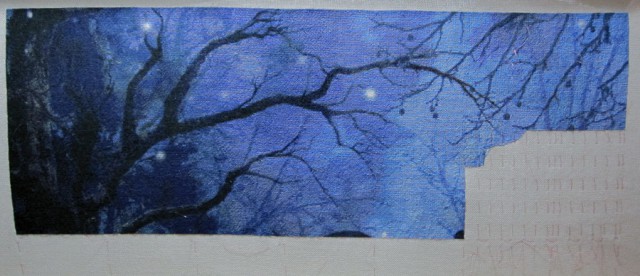 Didn't take me long did it?  I've finished page 12 of Whispers which didn't really take that long at all owing to the blocks of blue in the background.  If you look really carefully at the bottom of the page you can see two little arcs of black.  Those arcs are the top of her wings, I've actually stitched a bit of the angel.  Her face is on the page directly below page 12 I wonder how long it will take me to get there.
I almost had a bit of a disaster with her last weekend.  I thought I had bought all the threads I needed for this project but I managed to run out of one of the blues, I have a master set of colours so I just picked up the bobbin but noticed that the bobbin colour was a lighter shade of the blue.  I have had my master set for years now so some of them are very old but I still had a panic about getting a new skein.  The skein that I had been stitching with was newer than the bobbin but I still risked not having the same shades.  I couldn't stitch Saturday evening as I was so worried about it.  I picked up a couple of new skeins on Sunday and luckily they were a perfect match and you can't see where I have started using the new skein.
I did have a project where I couldn't finish it because I couldn't get a shade to match the old one I had been stitching with.  I think with anything new that I start I'm going to have to look at how much thread I need especially where I'm using an old bobbin, I would much rather pay for a new skein or two of thread rather than re-start a project.
It's getting cold here at the moment as winter finally catches up with us and we may even get some snow (we usually manage to miss it) so I'm going to move onto page 2 of Mini Lost In You and relocate to a warmer spot on the sofa.
Enjoy your stitching