Time for an update to the work in progress, thanks to some time off work and a couple of weekends I've managed to make a lot of progress on the woodland enchantress.  I think it's about a quarter complete now and I've taken the bottom along to it's full size.  It might just be me but I always seem to have a little panic that the fabric isn't going to be big enough to get the whole picture in, but this one is fitting so far.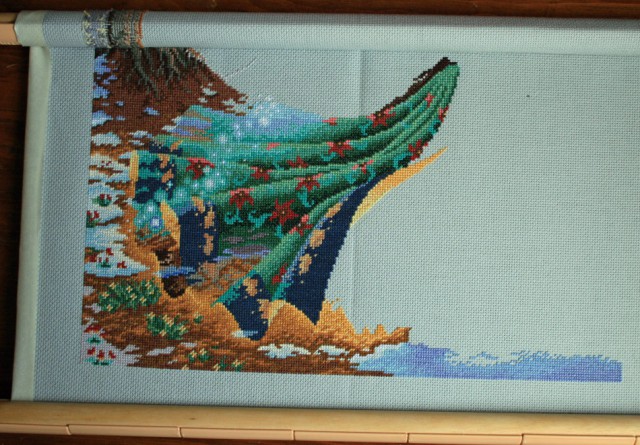 Most of the stitches I'm doing at the moment are half cross stitches so I'm quite looking forward to getting back to some full cross stitch done on the front part of her skirt.  If I did have to do this one again I would be tempted to wash the fabric first it seems to be rather startchy and because of the number of strands being used in places I think it would have been better to have the fabric a little softer.
I have also been spending the odd moments on the smaller picture I have on the go, since I got the miscount sorted out it's had a bit of a second wind and most of the stitching is almost done.  The only trouble with that is I keep find my mind drifting to what to stitch next.  Must resist, must get this one done first.