Couch Dragon won in the end even though that end of row page was so tempting.  But how could I resist working on Couch Dragon?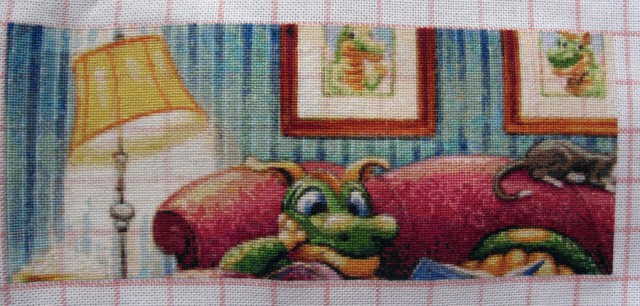 The colours are so bright it's nice to get back to them after just seeing the blues and blacks for so long.  The only downside is all of that colour changing.  If I didn't have my pako needle organisers it would be so much slower swapping my threads around.  Poor little kitty on the back of the sofa doesn't have a head yet so he looks a little odd at the moment, wish grumpy cat would sleep like that.  At the moment if grumpy cat sits behind me it's to watch the sparrows in the garden and as he gets grumpy with them he hits my head with his tail.
The weather did get hot for a couple of days which slowed the stitching down but normal showery weather is back again so I'm hoping that small page on Whispers isn't going to take long to stitch.  I need to get back to Couch Dragon to stitch kitty's head.