QS Yexian Festival Night designed by Heaven and Earth Designs artwork by Stephanie Pui-Mun Law. Stitching on 20 count Easy Count Aida and using two strands of thread.
April 2022 1,941 stitches I started this project in April just before my birthday to take advantage of some time off work. I didn't have any plans for it in regards to the rotation but I had a few days on my own and decided to treat myself to a new start.
May 2022 1,651 stitches Partway through May I decided that I would make this my weekday morning project. I was stitching smaller pieces during this time but I wanted to see how much I could get done if I used that time for this project instead. During the pandemic I would spend around 45 minutes in the morning stitching and make use of the time. It was also a good way to clear my head ready for the working day and to prevent me getting anxious about the day ahead. I'm really enjoying the colours in this project. I'm using a Nurge square hoop for this project so it is very portable if it needs to be.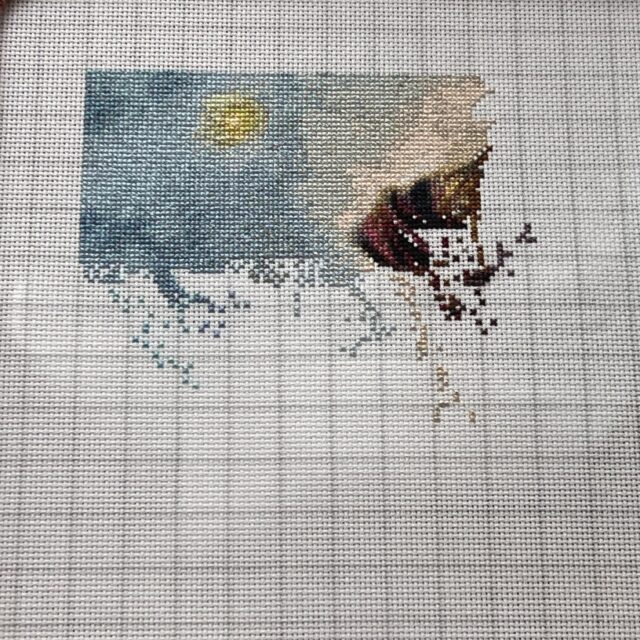 June 2022 3,149 stitches. The way that I have this set up in the hoop means that I can't quite stitch the whole page without moving the hoop so I decided that I would focus on the top half of each page to get the top section finished. It works out to roughly 50 rows of stitching. I also decided that I would still count how many pages I had done by dividing the total number of stitches by the number of pages in the project and then to keep track of the stitches I do and keep adding those up to my own page total. I moved across onto the second page and was able to work on some more of her headdress, it has some beautiful blues in it which makes up for the big blocks of white and cream.