This project has moved around on the rotation this year. Initially it was going to be the project to stitch after Trick or Treat which it was for February but in April I moved it to alternate with Bizarre Bookshelf in the lunchtimes and weekend slot. The reason for this was that I was struggling to stitch on it and settle into a way of stitching it. Moving over to lunch and weekend mornings meant that I could stitch more frequently for shorter periods and at the moment that appears to be working.
February 3,940 stitches 7 days I worked on this project for the last seven days of the month. After this I decided that I would prefer to work on it during lunchtimes and weekend mornings. The jar of threads had a lot of confetti stitches in it. I worked the page by completing the remainder of the spring shelf on the page before moving onto the summer shelf underneath.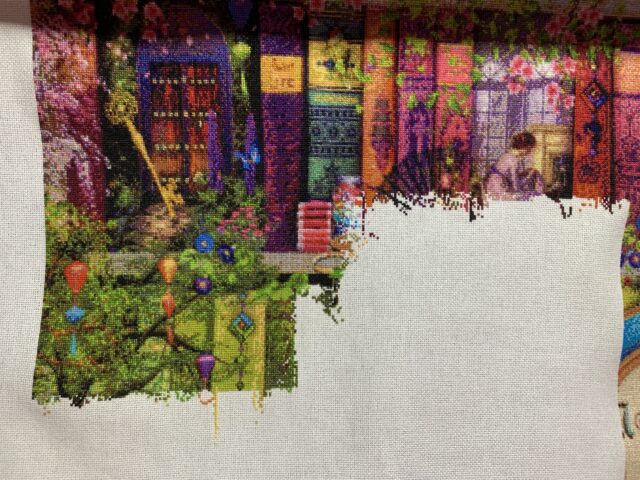 April 4,301 18 days I missed a lot of days on this during April. Again I focussed on the spring section before moving to the summer section. I finished the jar of threads and then stitched the remainder of the fan and flowers. I didn't get as many stitches done as I would have liked but it would have been a lot more had I been able to spend time on this project.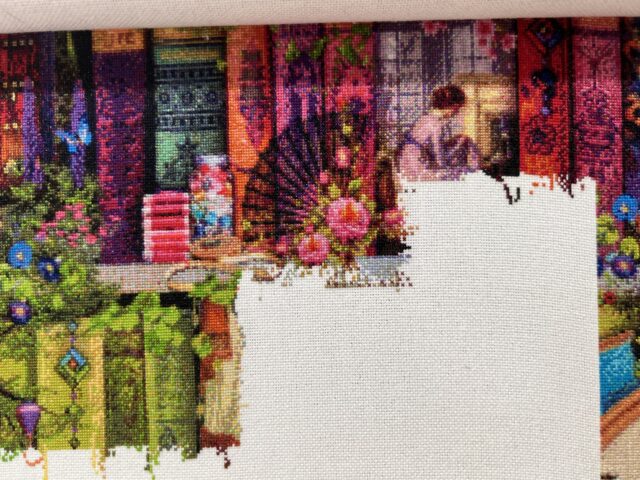 June 6,087 24 days Much better progress in June. At first I thought I'd try diagonal parking and it was ok until I got to that bunch of grapes and I had far too many parked threads to deal with so I went back to working across the page. The pace picked up once I got into that little vignette, I knew that at some point I should find the people in the scene but they didn't appear until the bottom of the page. Once the page was finished I concentrated on the spring section of the next page and almost got it finished by the end of the rotation. I think there are just a couple of flowers to finish and then I can get back to working on that summer picture and join the pages up with the centre section that I have already stitched.