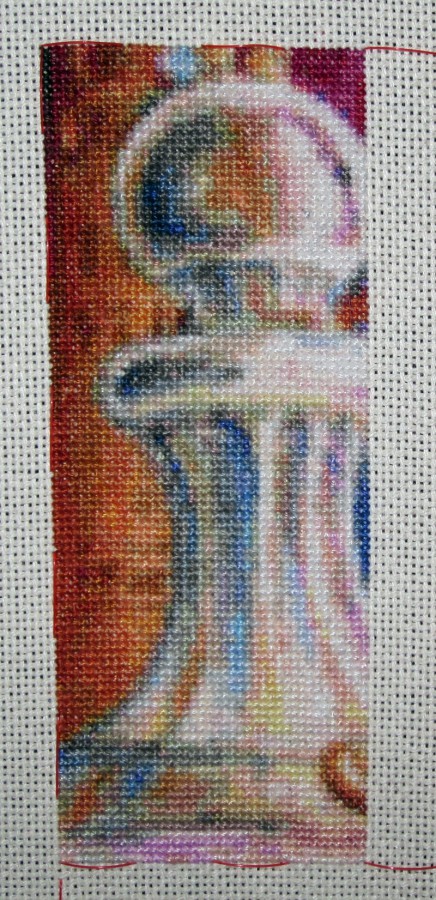 This new year began with a new start, the 2011 Heaven and Earth Designs stitch along began.  I have chosen to stitch QS Curl up with a good book by Randal Spangler – the same artist as Train of Dreams.  I've reached the halfway point of the page at the end of the stitch along and I am hoping to finish at the end of the year.  At the moment the picture is mostly a wine decanter, the little dragling is enjoying himself while he's reading his book, his ear is just peeking in at the bottom of the last column I stitched but I won't be seeing much of him until the June/July stitchalong.  There are lots of different colours used so far, I'm looking forward to the book background that makes up most of the rest of this page but first it's back to the Train until the next stitch along week.
I have set myself some goals this year, I shall probably just be stitching the charts by Heaven and Earth Designs as I have a lot of these now.
The first is to finish Train of Dreams – I don't have too much left on this only about four pages and so I have decided to concentrate on this one to get it finished in the next few months.
The second is to finish QS Curl up with a good book by the end of the year.
The third is to complete the top row of pages on Whispers which is six pages as I have already done the first.  Once the train is complete I shall go back to Whispers and spend some time concentrating on it.
If all goes well I shall probably give in and start Little Princess by Gordon Fitchett, I wanted to stitch it on a grey evenweave as the piece has no background and I got the fabric as a christmas present.  If I do well concentrating on Whispers I shall give in and get her started.
Happy New Year everyone, I'm off to get some more stitches done on my train.