I started this project back in 2021. It's a huge kit from Geckorouge artwork by Colin Thompson. I'm stitching it on 25 count fabric with one strand of thread. This is a really big project and initially I was using q-snaps but this year I treated myself to the longest set of quantum bars from Omanik Factory and now I'm stitching on a frame and it feels much more comfortable. I am mostly working from home since the pandemic and this pieces gets stitched during my lunchbreak when I'm at home and also at the weekends, so not a set number of days a month but whenever I can. I alternate months on this project with A Stitch In Time.
January 572 stitches 3 days. I think that this was the point where I got fed up with trying to deal with so much fabric on a q-snap so I only worked on it for 3 days. Most of the progress here was from 2021 so I had been able to make a good start on it. I really enjoy working on this project there are so many details to find and I really enjoy the colours. There are 158 colours in this project.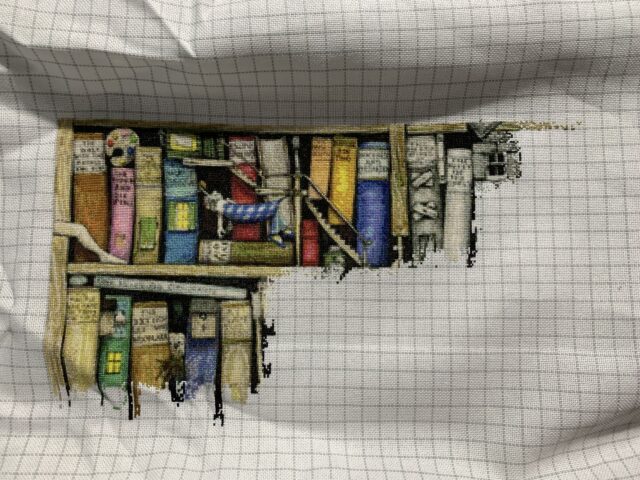 March 6,623 stitches 23 days. In March my new bars arrived these are the 110 cm bars. My original intention had been to stitch each bookshelf downwards, I think each section is the same width, but now that I'm on a scroll frame I'm working across the pages. This is the second section all shades of grey which looks really good but it is rather difficult to see where the gaps are so sometimes I have to check several times to see if there is a stitch or a gap in the area that I'm trying to stitch.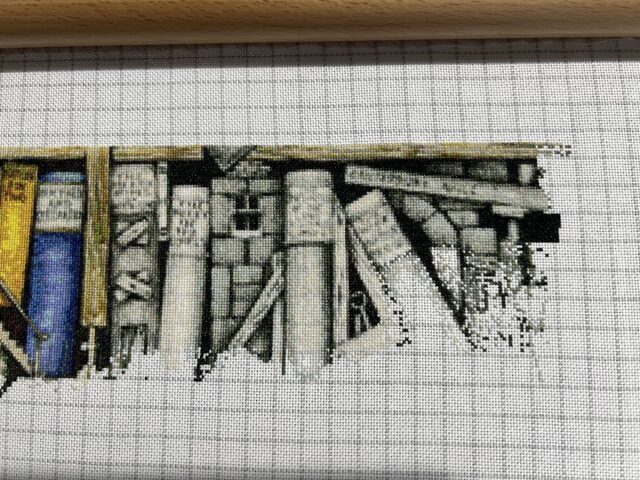 May 6,368 stitches 23 days. In May I was able to get that black and white section done and although I still have to do the bottom of the shelf, that is on the next row of pages so that's some way off at the moment. The vertical shelf divider is the halfway point on this row of pages. I was so glad to be able to get to the next shelf and back to some colour.