raIt's been one of those busy weeks and this page on Couch Dragon took me a little longer than expected.  It's been a while since I last worked on it so it took a little time to remember where all the symbols were on my needle organiser.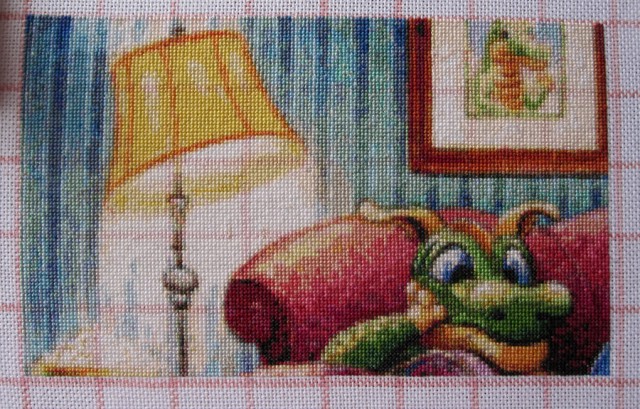 The page is done now and my newest little dragon has a face and there's another little guy in the picture on the wall.  I really love how these pictures stitch up, so colourful and bright which is why they make a nice little break from Whispers.  I've decided to swap between Whispers and Couch Dragon for the forseeable future.  Whispers is on the big stand and Couch Dragon on the q-snaps and lap stand so it's a lot easier to swap between them.  Counting out the pages as well I think I could be halfway through Whispers at the point I'm finishing Couch Dragon.  So a little target has been set can I reach both of those targets before the end of the year?
Another busy page on Whispers coming next and hopefully a week that is a little less busy than the one just gone.